"mita sneakers" attracts sneaker enthusiasts from all over the world
On Avenue des Champs-Élysées in Paris, England's Hide Park, The Metropolitan Museum of Art in New York, runway collections, and streets around the world, it's not fancy high heels and rigid boots, but colorful and casual sneakers that adorn people's feet.
Currently there has been a global rise in the popularity of sneakers. FLIGHT CLUB, size?, Sneakersnstuff, etc.; each country has a famous shop that takes the limelight, and Japan also has a big name to add. Located in Tokyo, "mita sneakers" is found in Ameyoko of Ueno. Dealing in major brands Nike, Adidas, and New Balance, they also stock watch list brands like KARHU and Diadora, as well as many collaboration models. Collaborations inspired by " the feeling of Ueno" are especially popular, even bringing in sneaker enthusiasts from overseas.
Known as Japan's leading sneaker shop since the '90s

The roots of "mita sneakers" began 60 years ago and at the beginning they solely dealt in Japanese style footwear with the manufacturing and sales of geta and zori (traditional Japanese style sandals). Sneakers began to permeate the Japanese market in the '80s, and they quickly changed course with the attention given to this new footwear. Several years after making the shift to full blown sneaker shop the big sneaker boom came to Japan. Shops dealing in rare models, mainly Nike, costing over 100,000 yen, opened all over the city. "mita sneakers" also grew quickly. In 2001, shops of this area and Nike collaborated in a project called, City Attack, which released a limited edition Air Footscape sneaker in Ueno.
However the crazy sneaker movement would end. Before long the sneaker craze came to an end and one shop after the other closed. Sneakers were no longer mainstream and only the fanatics remained.
Even so, "mita sneakers" did not lose their foot traffic. After the sneaker boom ended, they continued to cover various tastes and brands, as well as newsworthy collaborations that continued to attract sneaker enthusiasts. This store took hold of the Japanese scene.
Offering items from standard to highly sought after, regardless of age or gender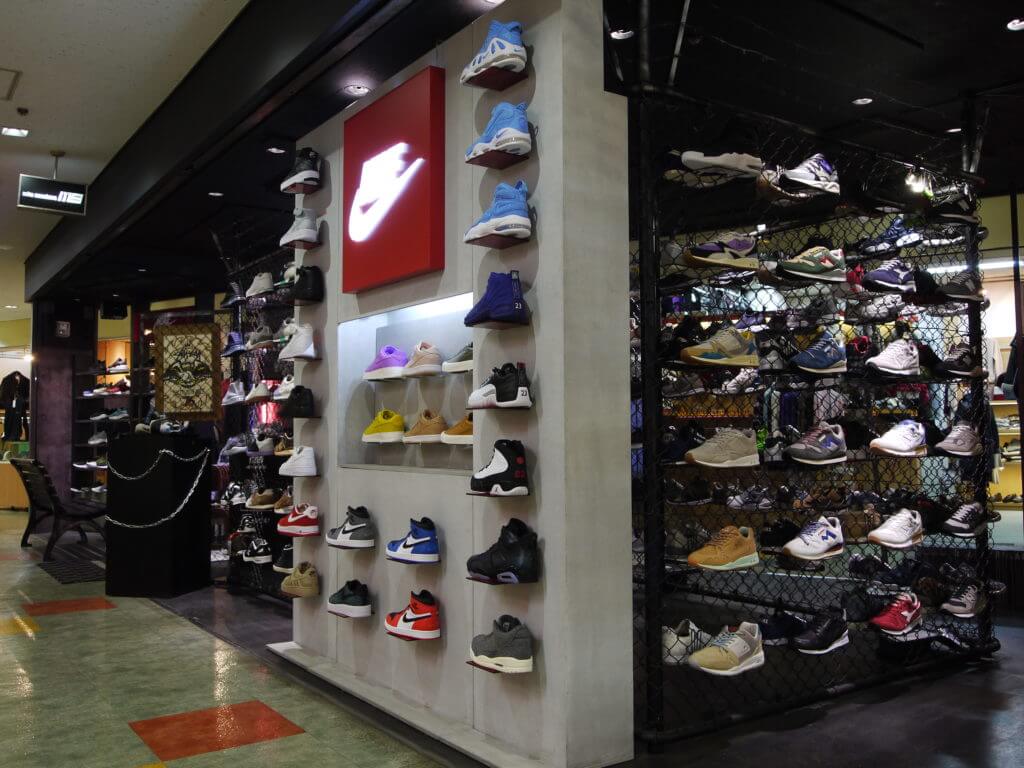 Sneaker fanatics watch "mita sneakers" from all over the globe for their unique collaborations such as the MT580 with New Balance and Hectic, the ZX8000 MITA with Adidas, the cherry blossom themed Ueno City Attack Series by Nike, etc. There is sure to be a long line on new release days.
Rare models are very popular and are good purchases for yourself or as a souvenir. "OMOTENASHI (hospitality)" is the specialty of "mita sneakers"; sneaker beginners are attentively taught about each model's special characteristics and charm as staff help you find the right shoe for you, also providing new information sure to appeal to enthusiast and collectors. Tourists are also welcome. While not all staff are proficient in foreign languages, but as fellow sneaker lovers they are sure to give thorough assistance.
Nearby is a row of famous places worth visiting, the Ameyoko shopping street, Ueno Park, The Ueno Royal Museum, etc. After purchasing that new pair of shoes from "mita sneakers" take a walk around the area and you are guaranteed a productive day.
"mita sneakers"

Ameyoko Center Building 2F

4-7-8 Ueno, Taito-ku, Tokyo, JAPAN

TEL: 03-3832-8346

https://www.mita-sneakers.co.jp


Edit & Text:K. Sachio
<PROFILE>
Editor and writer.
Works in fashion magazines and many other genres such as culture, gourmet,
etc.
A person who loves animals, family, and has a hardcore sweet tooth.