Complete The Three Views of Japan
Japan is a country popular among tourists around the world with many beautiful scenery.
Among them, three spots said to be especially beautiful are called "Japan's Three Scenic Spots":
Miyajima, Amanohashidate and Matsushima.
Miyajima(宮島)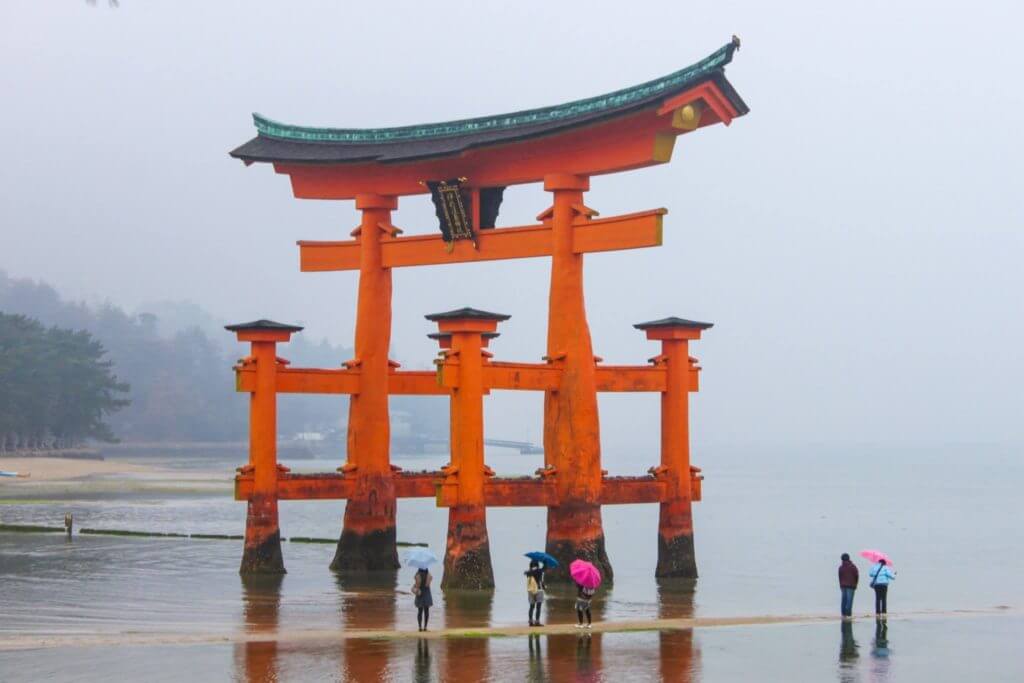 The Big Torii
The first one to introduce is Miyajima, an island in Hiroshima.
The official name for the island is "Itsukushima(厳島)" but it's often called "Miyajima(宮島)"
The Itsukushima Shrine(厳島神社), which stands here, is well known for the unique shrine building standing in the sea and the beauty of the architecture designed in Shinden Style, the traditional style from the Heian Period.
The red-colored shrine building seems like floating on the sea as the tide fills up.
Contrast with the green of Mt. Misen behind and the blue of the Seto Island Sea is very mystic and beautiful.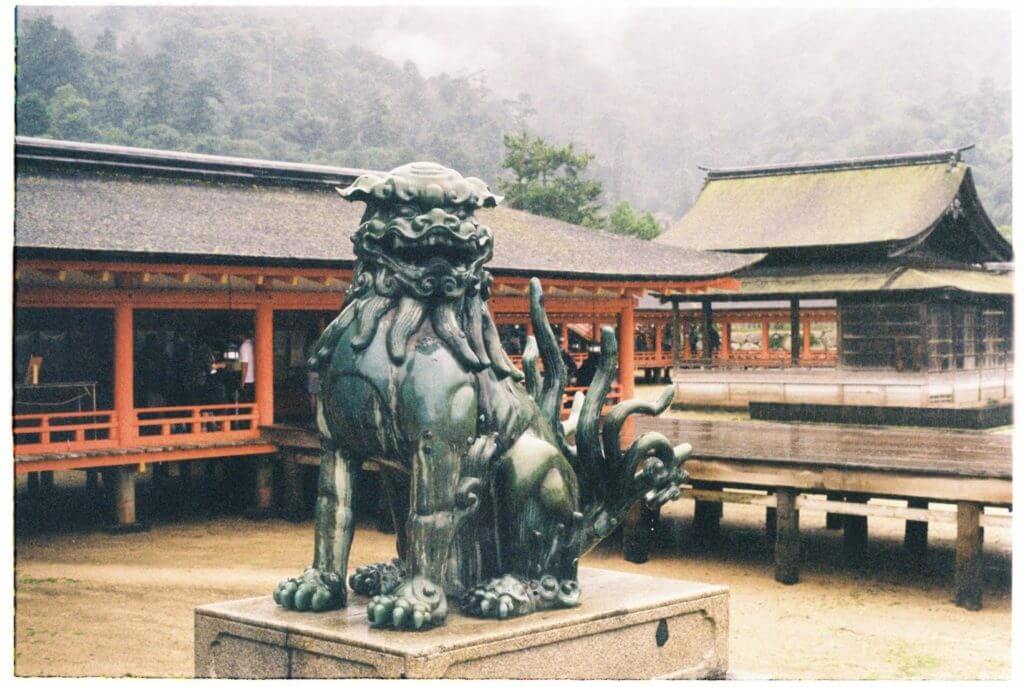 Itsukushima Shrine
Access:
●By JR Trains and Ferry
About 25 min from Hiroshima Sta. to Miyajima-guchi Sta. by San-yo Line
Then about 10 min by ferry
●By Tram and Ferry
About 60 min from Hiroshima Sta. to Miyajima-guchi Sta.
Then about 10 min by ferry
●Sea Route
About 22 min from Hiroshima Port
About 50 min from Peace Memorial Park(Motoyasubashi-Bridhge)
About 25 min from Ono Pier
About 25 min from Marina Hop
Amanohashidate(天橋立)
Amanohashidate located in northern part of Kyoto comes the next.

Amanohashidate, Kyoto
According to "Tango Fudoki", the ancient reports about the province, Amanohashidate used to be called "the bridge to heavens".
This place is beautiful enough as it is, but you must try such called "Matanozoki" to enjoy the impressive view.
Guidance for Matanozoki
1. Stand with your back in the direction of Amanohashidate.
2. Bend over and look at the view through your legs.
The land and sky will seem upside down, and the view looks like a dragon ascending to the heavens.
Access:5 min walk from Amanohashidate Sta. on Kyoto Tango Railway
Matsushima(松島)
Matsushima is 260 large and small islands in Matsushima Bay in Miyagi.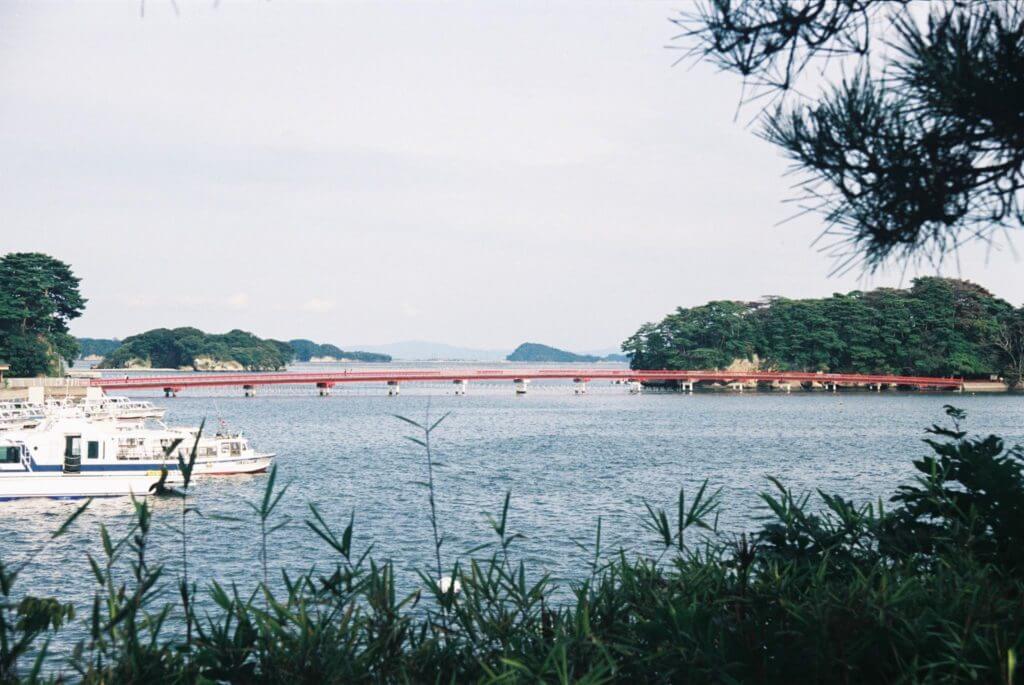 252 meters long red bridge
Pleasure cruise is recommended in Matsushima!
When we are on the ship, a bunch of seagulls comes for food.
If you have snacks in your hand, they rapidly swoop down from the sky.
It will surprise you at the first time, but try feeding them since it's a rare experience.
The cruise while being blown by the ocean is bit different from seeing the islands from the land.
Recommended for those who want something special.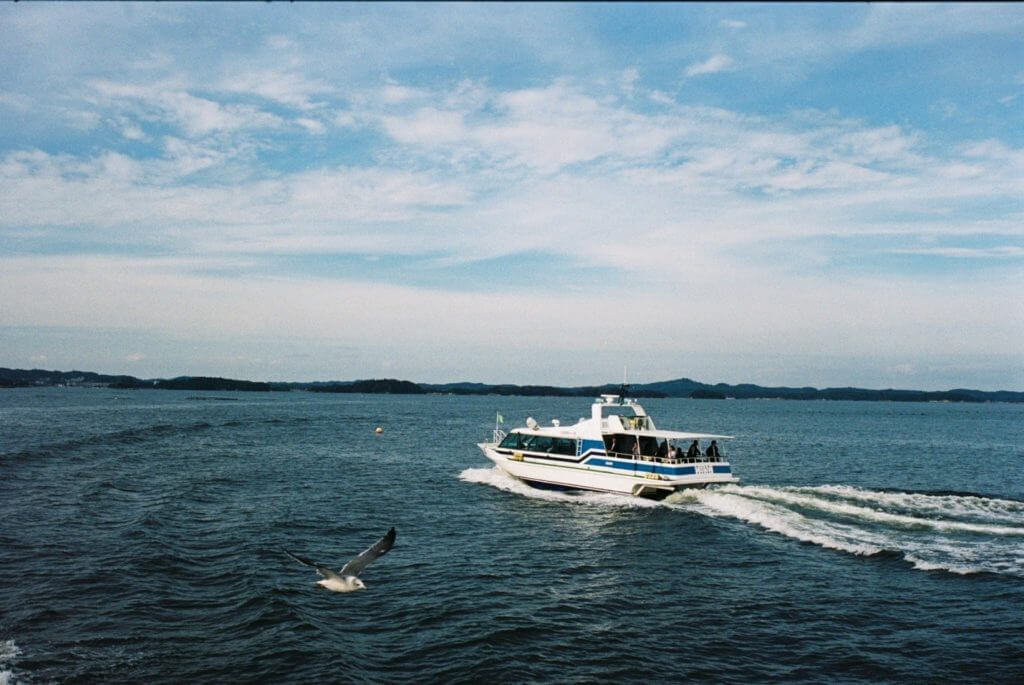 There are so many souvenir shops and restaurants in Matsushima.
Oysters are available as well, which is famous in this area.
You must try "Oyster houses" which are open in winter season.
Access:
Matsushima-kaigan Sta. on JR Senseki Line (40min from Sendai Sta.)
Matsushima Sta. on JR Tohoku Line (24min from Sendai Sta., 25min walk to the major sights)
Each of the three views has its own beauty.
When you come to Japan, try visiting all three spots.
Writer:MinMin
Translator:TrangDTK