There has been an increase in people overseas interested in Japanese culture such as calligraphy, the tea ceremony, and flower arranging, but recently there are many foreign visitors who want to actually try such activities. The highest point of interest is usually because such an idea or art doesn't exist in their home country. Not just foreign visitors, but Japanese people as well should try these cultural demonstrations, as there are many people born in Japan who aren't well versed in Japanese culture (I'm one of them). This time I will be introducing activities that once you experience, you'll want to know more and more. Let's make great memories with real hands on experience!
The Bonsai tree that changes appearance with the four seasons
Its sturdy appearance is cool right?
Bonsai is a plant raised in a pot for several decades using traditional Japanese techniques that have been handed down for over 170 years. It sounds simple, but it's a quite complicated process! Skilled and delicate technique is indispensable for the total balance of the tree; the curve of the trunk and branches, the way the leaves grow, etc. are all very important. You could say that one may be able to understand the artist's personality, from looking at the shape of their tree. People who want to start bonsai just because they like it, won't be able to produce great results. It's not just love for the craft, but knowledge is also important, so I recommend this one day trial lesson teaching the basics for those who want to start their own bonsai. The charm point for foreign fans, is the wealth of knowledge waiting to be learned regarding this craft.
Bonsai is taking foreign fans by storm! Try out "Saika Bonsai" at Seikouen
Fee of 7,560 yen (tax included)
Usually bonsai trees are just one tree standing in a pot, but at Seikouen you can experience a trial lesson in "Saika Bonsai", which uses vegetation and cosmetic sand to create a more gorgeous looking bonsai. They look like a very small garden was created inside of a pot.
The traditional bonsai is dignified and cool, but the balance of the plants and colors are the key to the elegant and beautiful works made here. You can take home what you make and enjoy living with your bonsai! After really looking and taking in a picture of a bonsai tree for the first, I find I really admire its strong, resolute shape and I really feel Japan's traditional techniques are truly wonderful.
Seikouen
HP: https://www.seikouen.cc/taiken/index.html
Feel refreshed with "Kawarawari" (breaking roof-tiles)
It feels great making such a clean break!
Kawara is a ceramic, gray tile made of clay used for tiling traditional Japanese houses. In karate, practitioners break the tiles as a test of strength. There was a popular commercial where the actress, Rina Takeda, broke a stack of kawara with her head. It wasn't CG, she really did it! If you don't know this commercial, definitely search "saison card kawarawari" and take a look.
"Ibushi noshigawara" are the type of tiles stacked up and used in kawarawari. If you use a different type of tile, it will hurt your hand, so be sure to use noshigawara! Playing around with this rule is dangerous.
Put all your stress into your fist! Ishikawa Shouten, a roofing business of 60 years
Women and children are welcome too!
Many people have stress from work and relationships, right? Especially here in Japan, we seem to be the number one stressed country, maybe because we're so serious. At Ishikawa Shouten you can freely try kawarawari, usually reserved for those in karate, and get rid of all those unpleasant feelings.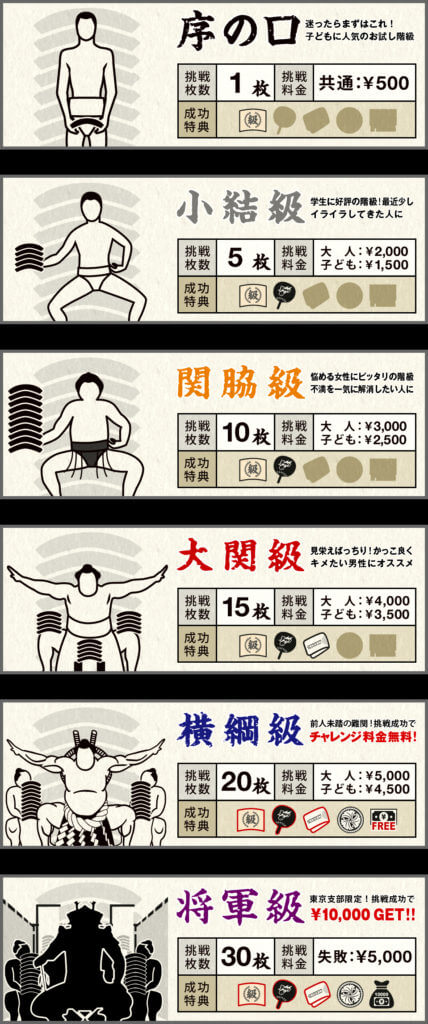 This is the challenge menu.
The kawarawari challenge menu is as follows; beginners 1 tile course, second rank 10 tile course, grand champion 20 tile course that is free if you succeed in breaking all of them, shogun 30 tile course where you win 10,000 yen if you are successful. Seeing the number of tiles it seems easy! But it's actually quite a few tiles to break. Since you're going through the trouble of trying it out, why not aim for the shogun course and win 10,000 yen!
Don't you want to put all those emotions into your fist and send it through those tiles? The feeling of tension and exhilaration will definitely be something you'll want to experience again and again. You can look cool in front of your girlfriend or just experience a new type of exhilaration!
Ishikawa Shouten
HP: https://riverstone-roofing.com/kawara-wari/
"Plastic Food Models", 80 years of tradition
These aren't real; they're all plastic models of food!
You may think that plastic food models are a recent thing, but on the contrary there is more than 80 years of history behind it! I'm embarrassed that I didn't know either. Nowadays just about any and all restaurants have these plastic models of food in their display windows, making it a newer part of Japan's cultural tradition.
As there is nothing like this overseas, these plastic models are said to be an art.
Without thinking, you want to eat it. Ganso Shokuhin Sample-ya, the pioneer of plastic food models
It looks delicious.
At Ganso Shokuhin Sample-ya you can experience making models of food in the traditional way using wax combined with modern techniques. You can make the standard cabbage model and the tempura which is the number one favorite Japanese food overseas. Thorough instructions are given, so even if it's your first time you can make realistic models. However instructions are only provided in Japanese, so I would recommend foreign visitors to bring a Japanese friend or interpreter.
Ganso Shokuhin Sample-ya
HP: https://www.ganso-sample.com/experience/kappabashi_menu1.html
I provided some core information here, but maybe these activities will bring more people to love Japan! I think the technical skills of Japanese people are pretty awesome. It's too bad I don't have any special abilities.
Edit & Text:MUGI
<PROFILE>
A girl living in Tokyo with her spoiled and chubby chi-poo (Chihuahua and poodle mix). I like unique scents and taking walks.