Discover Japan with International Students: Delicious and Healthy Matcha Sweets at "Sawawa", Tokyo Solamachi
A short walk down from Skytree is a local secret, is a shopping mall underneath the tower called Tokyo Solamachi. The mall has over 300 shops, but a must visit is "Matcha Sweet Doko Sawawa".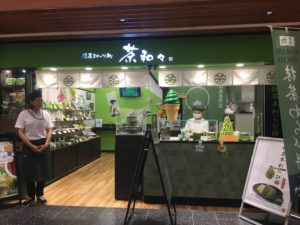 Matcha Sweets Doko Sawawa:茶和々
This cafe adds a modern twist to the traditional Japanese sweet offerings with Matcha ice cream, matcha cheese souffle and shakes. This is a must try in Japan, traditional matcha sweets have been popular in Japan for generations. They offer: ice cream, lattes, soufflé, matcha red bean sweets, matcha filled pancakes, hot and iced tea. There is something for every palate.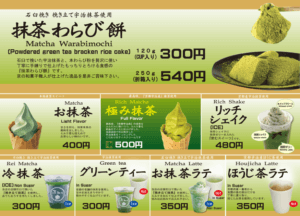 Enjoy fresh matcha ground right in store!
Their matcha is ground right in store. The green tea leaves are put in the top and ground into a fine powder.
Matcha is a finely ground powder of green tea leaves with a slightly bitter flavor, with many health benefits. Matcha is packed with antioxidants and boosts the metabolism.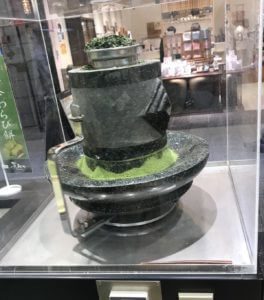 Handmade matcha warabi mochi
The most popular menu in the store is matcha warabimochi (jelly covered matcha) which is handmade daily right in store. The warabimochi first comes in one large piece and then covered in matcha powder and cut into bite sized pieces.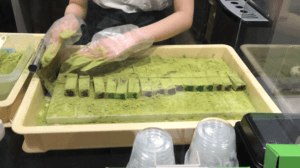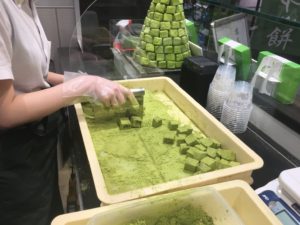 These are a must try when you visit Sawawa, with the slightly bitter outside but sweet jelly inside they are delicious. You will want to take a box home with you too.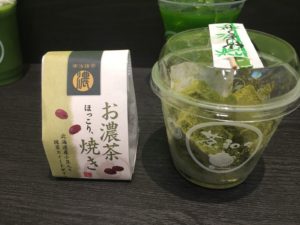 【Sawawa Tokyo Solamachi】
Address:1F East Yard Block 11, Tokyo Skytree Town Solamachi, 1-1-2, Oshiage, Sumida-ku, Tokyo
Near Tokyo Skytree Station
Website:https://www.tokyo-solamachi.jp/access/
Open :    Weekdays:10:00〜21:00 , Weekdends and holidays:9:00〜21:00