Japanese Specialty Shops! – Part Two –
This is a continuation of the previous part one "thing" edition, this time I present the "food" edition.
There are still depths we don't know about the Japanese food we eat as part of our daily lives. Here I will introduce shops specializing in Japanese style snacks and items for side dishes.
Kikumi Senbei Sohonten; a historic senbei shop who's taste and look has never changed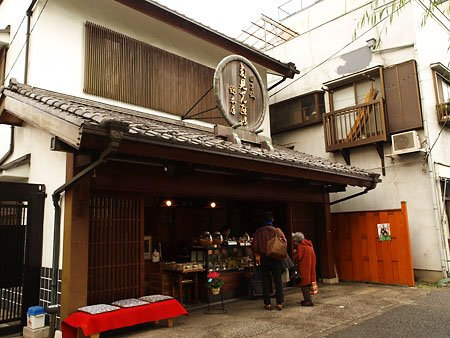 Kikumi Senbei Sohonten, a shop specializing in senbei (rice crackers) and is located near Dangozaka, Sendagi. Established in 1875, this shop was originally founded to provide souvenirs for people who had come to Dangozaka to see "kiku-ningyo", dolls decorated and clothed in chrysanthemums, which was a popular exhibition at the time. You feel a sense of history, seeing the senbei casually lined up in the showcase, along with arare (bite-sized crackers) displayed in glass jars. The senbei sold here is the not-so-common square-shaped type, made in the hard-baked style that is popular among people in Tokyo. You can also buy the crackers separately, making them a good snack as you walk.
<Kikumi Sembei Sohonten>
Address:3-37-16 Sendagi, Bunkyo-ku, Tokyo, JAPAN
TEL:+(81)3-3821-1215
Tsukemono Senmonten Tsukiji-Nakagawaya; meet your first pickled vegetables!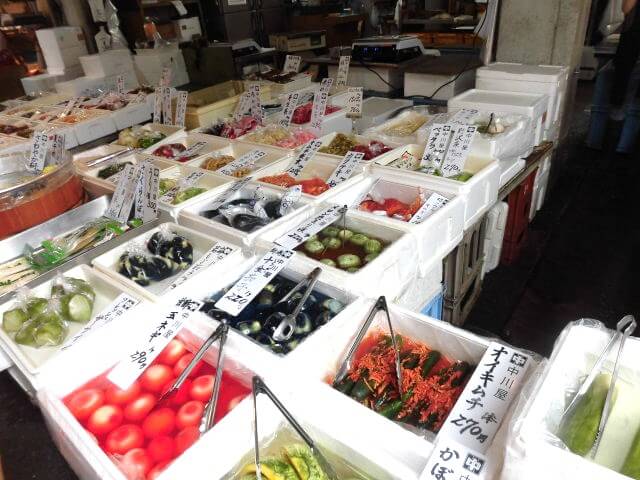 Established in 1944, Tsukiji-Nakagawaya is a popular shop that specializes in tsukemono (pickled vegetables). Many types of tsukemono from all over Japan are offered here like bettarazuke, nukazuke, kasuzuke, and karashizuke, etc.! Small amounts are sold according to weight, so you can try many different kinds. Not only can you buy at the shop, but you can also place an order as they ship all over Japan.
<Tsukemono Senmonten Tsukiji-Nakagawaya>
Address:4-8-5 Tsukiji, Chuo-ku, Tokyo, JAPAN
TEL:+(81)3-3541-6955
HP:https://tukiji-nakagawaya.com/
Yakiimo Senmonten Fuji; taste the true flavor of sweet potatoes.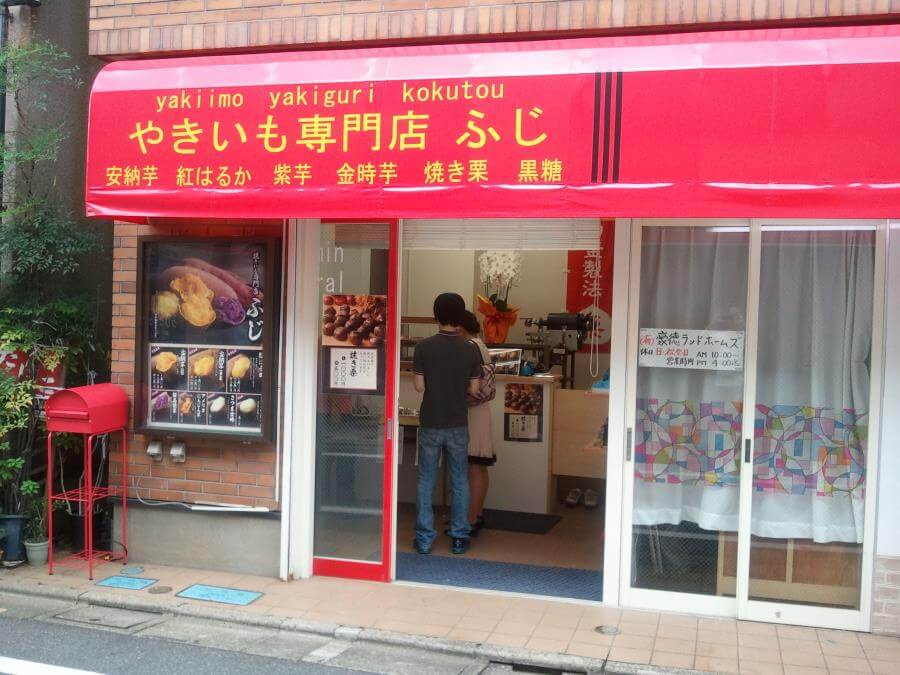 Yakiimo Senmonten Fuji is only a 3 minute walk from Gotokuji Station in Setagaya, Tokyo. You can often find mobile stalls and supermarket counters selling yakiimo (roasted sweet potato), but a shop dedicated to selling only this item is rare. They offer a rich variety of sweet potatoes; here you can find very famous to not so well-known yakiimo, such as murasakiimo, annouimo, beniharuka, ninjinimo, and more. "Yakiimo" is a simple food that allows you to enjoy the pure flavor of the produce. This is a shop that one could easily become addicted to
<Yakiimo Senmonten Fuji>
Address:1-7-11 Kodokuji, Setagaya-ku, Tokyo, JAPAN
TEL:+(81)3-6413-7215
HP:https://f-yakiimo.com/
Natto Kobo Sendaiya; this goes out to all the natto lovers.
Natto Kobo Sendaiya is a shop specializing in natto (fermented soybeans), a representative food of Japan! This shop has been making and selling natto since 1961, with their headquarters in Yamanashi. They have three shops in Tokyo where many natto fans gather, one in Ikejiri-Ohashi, Shimokitazawa, and Koenji. They sell a wide variety of natto; otsubu natto, kotsubu natto, original flavor natto, and many more that are usually hard to come by. If you love natto, this is the place for you!
<Natto Kobo Sendaiya Honten>
Address:585-2 Karakawashi, Isawa-cho, Furefuki-shi, Yamanashi, JAPAN
TEL:+(81)55-262-1170
HP:https://www.sendainatto.jp/
Jiman Kusamochi; a kusamochi specialty shop. You'll want to spread the word about this yomogi mochi.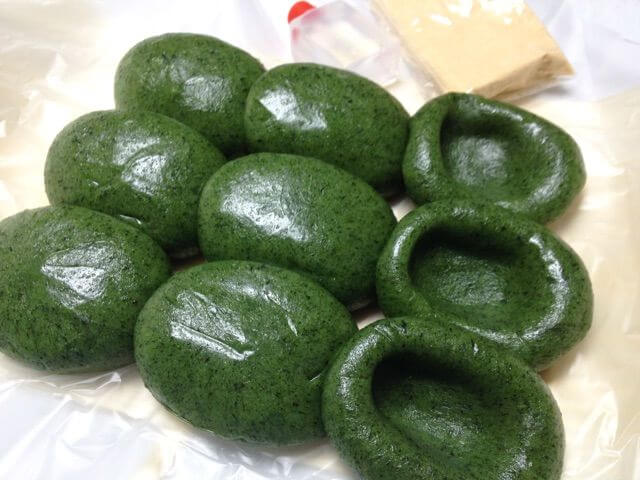 Jiman Kusamochi is famous for their kusamochi made with fragrant yomogi (mugwort). Established in 1869, this is another longstanding sweets shop. You can try two types of kusamochi flavors here, one with red bean paste filling and the other without, eaten with syrup and kinako (roasted soy flour); sweets like daifuku, sasamochi, etc. are also offered. This shop has many regular customers and is popular among locals. Their signature kusamochi is available every day until it sells out, so I recommend going at an early time.
<Jiman Kusamochi>
Address:1-5-9 Tsutsumidori, Sumida-ku, Tokyo, JAPAN
TEL:+(81)3-3611-6831
HP:https://jimankusamoti.com/


What do you think about "Japanese Specialty Shops! – Part Two –"? In this edition I introduced specialty shops concerning food, what do you think? Japanese people are familiar with all of these items, but there are still new kinds of deliciousness to be discovered at specialty shops!
Taking a look in a shop you spot while you're out or visiting while taking a stroll, these are all good times to experience delicious things that bring joy.
Edit & Text:deco
<PROFILE>
A country girl raised surrounded by animals, who moved to the big city of Tokyo. I like fashion and beauty as much as the next person, but I love manga and anime. 70% of my interests are in otaku culture.