Roundup of Trendy Rental Bicycle Shops for your Summer Getaway
For the most part I get around by train and bus – apart from that, even when it's a little far, I walk. At such times, I often can't help but think, "if only I had a bike!" This is where rental cycles are the go to option.
Up until a while ago the image of riding a rental bike, with their big signs attached, was a bit embarrassing, you're with me right? For this reason, I think many people who knew about rental bicycles never actually used them.
Fear not though! These days there are many trendy rental cycles available for hire.
Let's introduce our recommended bicycle shops in the Tokyo area and other sightseeing areas, so you can gallivant around like a true out-of-towner.
【Tokyo Area】
A Rental Cycle Themed Café: Pillar Café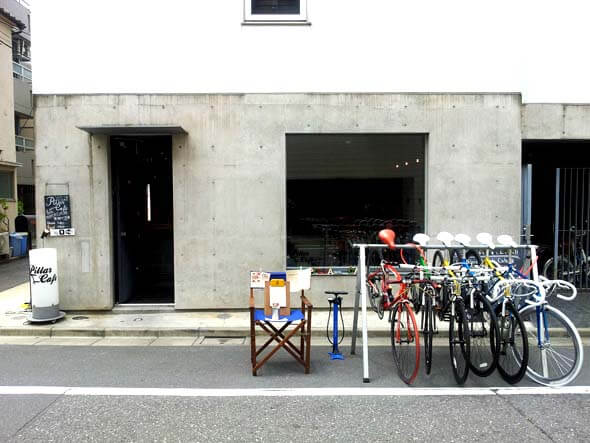 Pillar Café is located just 5 minutes from Shibuya Station, making access extraordinarily easy. "Pillar Café" gets its name from the seat and frame section of bicycles. Bikes are available for free, the rental time depending on how much money you spend on food and drinks. A spend of over 500 yen will get you 1 hour hire time, and over 1000 yen spent, 1-3 hours. It's an easy ride to Daikanyama and Ebisu; you can cruise around acting like you own the place. Chill out with a drink before, or have some food after you're done cycling around.  This is a great system.
<Pillar Café>
Adress:2-22-3 East Plus 1F, East Shibuya, Tokyo
TEL:03-6450-5406
Website:https://pillar-cafe.net/rent-a-cycle/
Cycling the Fashionable Kiyosumi Shirakawa: Nois KIYOSUMI SHIRAKAWA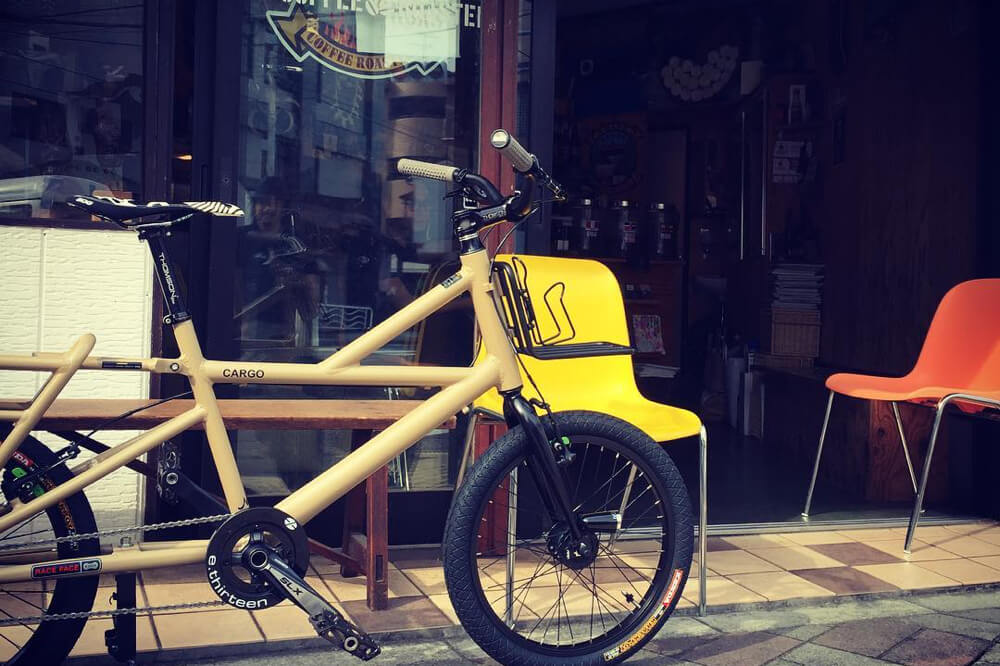 "Nois", is a specialty bicycle shop originating from the old residential area of Tokyo, Fuchu City, and is now selling and renting out bikes in Kiyosumi Shirakawa. Bikes are 500 yen each to rent, with helmets and child seats being free of charge making it easy to enjoy cycling together as a family. Kiyosumi Shirakawa is known as an art precinct, but has in recent years seen an increase in cafes and has become a popular locale. Enjoy meandering around, checking out the cafes and galleries, and taking in the streetscapes of this traditional area.
<Nois KIYOSUMI SHIRAKAWA>
Address:1-3-7 Hirano, Koto, Tokyo
TEL:03-6458-5578
Website:https://ks.nois.jp/rental.php
Bicycles to get psyched about: tokyobike Rentals Yanaka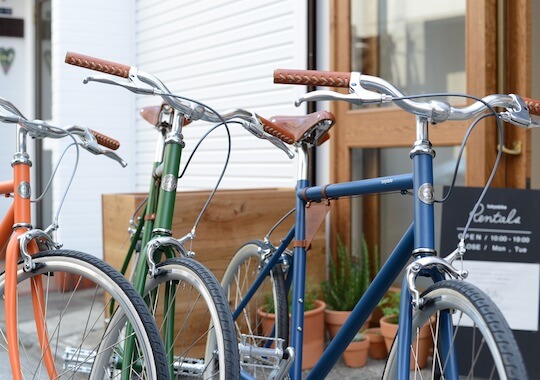 At tokyobike Rentals Yanaka you can rent a bike for a whole day. Popular among bicycle enthusiasts, these stylish, yet nostalgic bikes are just 2500 yen. After riding a borrowed bike, you may be enticed to purchase one. Bookings are done online – I found it exciting to choose the model I would be riding. We also recommend taking a day tour by bicycle of Yanesen – an area showcasing the good old days of Tokyo.
tokyobike shop Yanaka is a completely different place, so please be sure not to confuse the two.
<tokyobike Rentals Yanaka>
Address:4-2-39, Yanaka, Taitou-ku, Tokyo
TEL:03-5809-0980
Website:https://tokyobike.com/
【Sightseeing Areas】
Easy bicycle rentals without worries: Muji – Aeon Mall Kyoto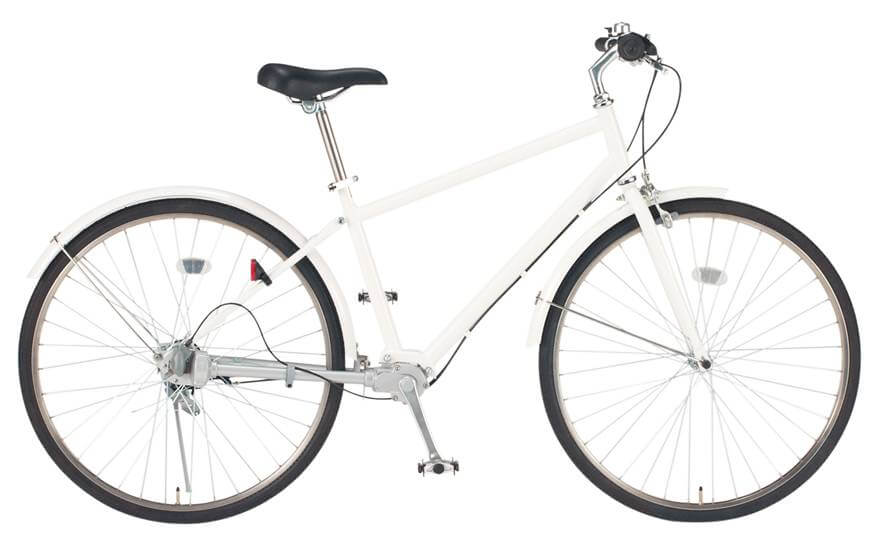 Muji only offer bicycle rentals at three of their stores – Tokyo, Yurakucho and this one; Aeon Mall Kyoto. What's more, it's only 500 yen a day. Access is perfect – a 5 minute walk from Kyoto Station. Muji's simple bicycle design offerings are attractive, even for those who usually don't ride around much. Bookings can be made at the store, or prior to visiting by phone – be sure to check the information while planning your trip. For a place like Kyoto, with things to see around every corner, getting around by bicycle is perfect. Taking a full day to check out Kyoto's nooks and crannies is well worth it.
<Muji Aeon Mall Kyoto >
Address:2F Aeon Mall Kyoto, 1-12340 Nishikujō Toriiguchichō, Minami-ku, Kyoto
TEL:075-693-7262 
Website:https://www.muji.com/jp/
Truly feel the west coast by rental cycle: Kamakura Breeze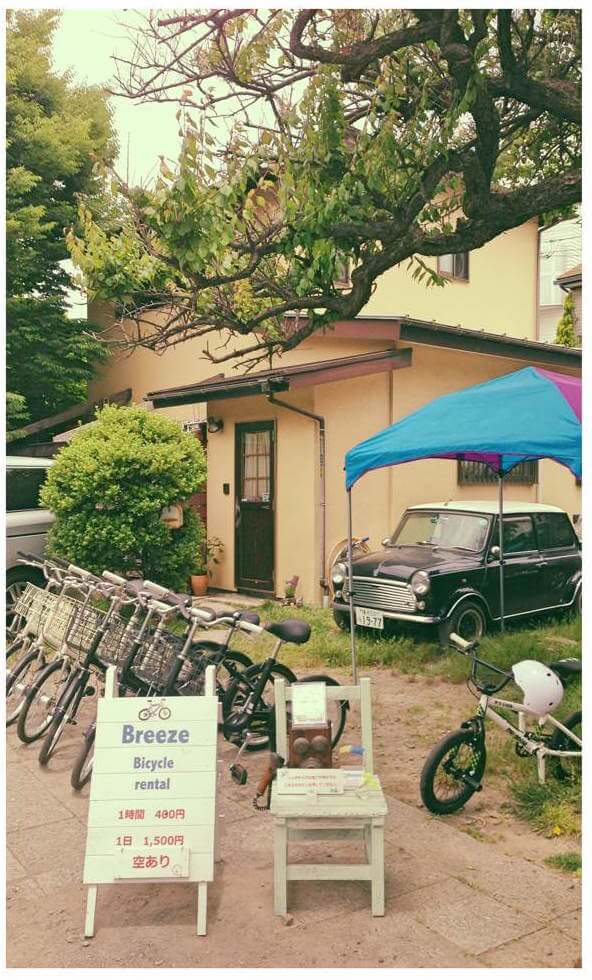 Kamakura Breeze is a 5 minute walk from Kamakura station, and also hosts a car park (fee required) – so making the drive down and switching to sightseeing by bicycle is an option. Rental is 400 yen per hour, 1200 per day and 1500 per day on weekends and public holidays. There are many models available; 20 inch, 26 inch, mini vélo, etc. With many smallish models, it's easy to stop outside cafes and shops without taking up too much space. Also available are beach cruisers – used for riding over the sandy beaches. Kamakura is an area that entices you to explore – and what better way to explore the coastline than by rental bicycle.
<Kamakura Breeze>
Address:2-16-24 Komachi, Kamakura City, Kanagawa
TEL:0467-61-2830
Website:https://breeze.sub.jp/
Exploring unfamiliar areas by bike, unlike buses and trains, means we can find hidden gems that we might otherwise overlook. For a more enjoyable travel experience, see the sights by rental bike!
Edit & Text:deco
<PROFILE>
A country girl raised surrounded by animals, who moved to the big city of Tokyo. I like fashion and beauty as much as the next person, but I love manga and anime. 70% of my interests are in otaku culture.